A Sweet Pi Day Recipe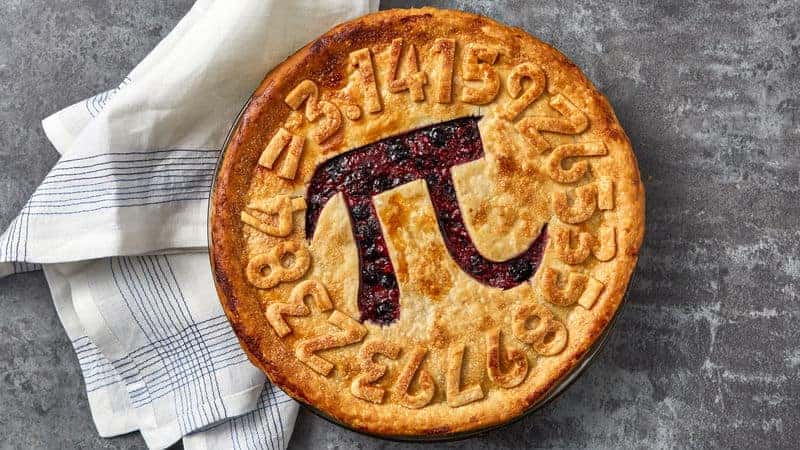 Celebrating a mathematical constant
3.14159265359… It's Pi day everybody! You may not have thought about pi since high school algebra but pi is an irrational number that represents the ratio of the circumference of any circle to its diameter. Big or small the circle's ratio will always equal to pi. Pi Day also isn't the only holiday about a mathematically proven theory, such as Fibonacci Day. Since strawberries are currently in season, we have prepared a strawberry crumble pie recipe for you.
Ingredients
Crust
Filling
Topping

1 1/4 cups AP flour
1 tbsp sugar
1/2 tsp kosher salt
1/4 cup cold vegetable shortening
6 tbsp unsalted butter, cold cubes
2 tbsp ice water
2 tbsp vodka or apple cider vinegar

2 lbs Strawberries
1/2 cup packed brown sugar
1/4 cup granulated sugar
2 tsp instant tapioca
1 tbsp lime juice
1/2 tsp ground cardamom
pinch of kosher salt

3/4 cup rolled oats
1/2 cup AP Flour
1/2 cup packed light brown sugar
1/2 tsp kosher salt
1/4 tsp ground allspice
1/4 tsp ground ginger
6 tbsp unsalted butter, cold cubed
Directions
Lets start with our crust. In a food processor and pulse together the sugar, salt, and flour. Add the vegetable shortening pulsing until your mix looks like a course meal. Next is the cold cubes of butter, only pulse the processor until the cubes have turned into small pea sized chunks. Finally add the water and vodka pulsing until a dough starts to form but is still crumbly. Empty your processor onto a sheet of plastic wrap and with your hands shape the dough into a disk and wrap. Place your wrapped dough in the fridge for a minimum of one hour.
While the dough is cooling in the fridge it's time to begin making the delicious crumble pie topping. In a bowl add in oats, flour, brown sugar, ginger, allspice, and salt. Using your hands add in the cold butter cubes and mix till clumpy. Place your crumble in the fridge with your dough.
If you haven't done so already go ahead and preheat your oven to 400 degrees Fahrenheit and place a baking sheet on the lower rack. In a bowl stir together your halved strawberries, lime juice, cardamom, brown sugar, granulated sugar, salt, and tapioca. Stop stirring when the sugar and tapioca are completely dissolved and all strawberries are well coated.
Time to put it all together. Roll out your dough on a floured surface making a roughly 12-inch circle. Place your dough carefully over a 9-inch pie plate. If your dough hangs over the edge you can tuck it into itself. Crimp the edges of your pie with a fork and place it back into the fridge. After at least fifteen minutes you can pull the dough out again add your strawberry filling. Sprinkle your crumble topping over your filling evenly. Place your pie on the hot baking sheet and bake until you see the top of your crumble is golden brown and bubbling at the edges. This should take about an hour to bake fully. place your pie on a cooling rack and let it cool completely before serving.