BMW 3 Series vs Audi A4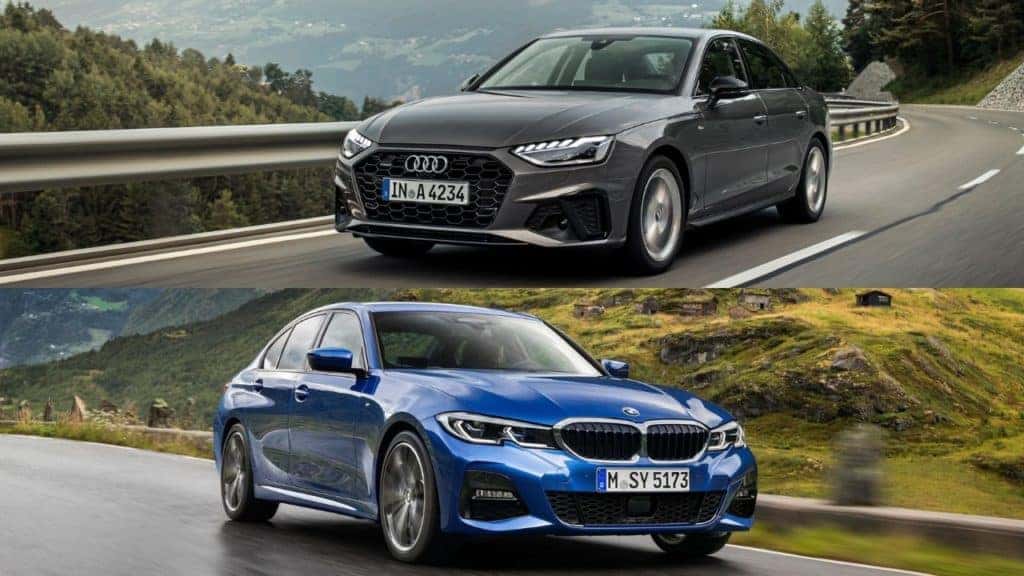 The BMW 3 Series is one of the most popular luxury sports sedans you can get right now, but how does it stack up against competition like the 2021 Audi A4?
BMW 3 Series vs Audi A4
Audi has has some of the most impressive technology and performance in recent years with its yearly A4 models. With that being said it has some big shoes to fill when compared to the fan-favorite BMW 3 Series. The 3 Series has been praised as the "Ultimate Driving Machine" for many years while still offering a wide arrangement of powertrain varients and trims. With that being said the two automobiles are more alike than you may think, but still have enough differences to be compared and see which one is right for you.
Interior and Technology
Although a category like interior design can be subjective based on personal preferences and taste, we'd like to give our opinion and reasoning based on facts and what each vehicle has to offer. The Audi A4 has a slick interior that appears to be a bit more updated than the 3 Series and most of its many trims. Where the A4 has a much less objective advantage is in its technology. Audi's 12.3-inch digital gauge cluster system has some of the profound audio in any vehicle on the market, let alone an Audi. Don't get it twisted, the 3 Series technology is nothing to scoff at, but this category goes to the A4.
Space and Efficieny
The BMW 3 Series is more efficient than the Audi A4 on and off the highway with the ability to max out at 36 mpg on the highway compared to the 32 on the A4. The 3 Series also offers a plug-in hybrid variant with up to 22 miles of all-electric range. This is a great option for people who have to travel on short trips and save some extra gas. Audi loses this round decisively by not having a hybrid variant at all and being unable to keep up with the mpg of the 3 Series.
3 Series vs A4 Cargo Space
Both sedans have similar builds in terms of cargo space for passengers and legroom. However, the BMW 3 Series separates itself from the A4 with much more room for actual storage with a 17-cubic foot trunk compared to the much smaller 12 from Audi. Overall the BMW 3 Series has much more to offer than the Audi A4 and checks more boxes of what many are looking for in their premium sports sedan.