Cool Down With These Watermelon Treats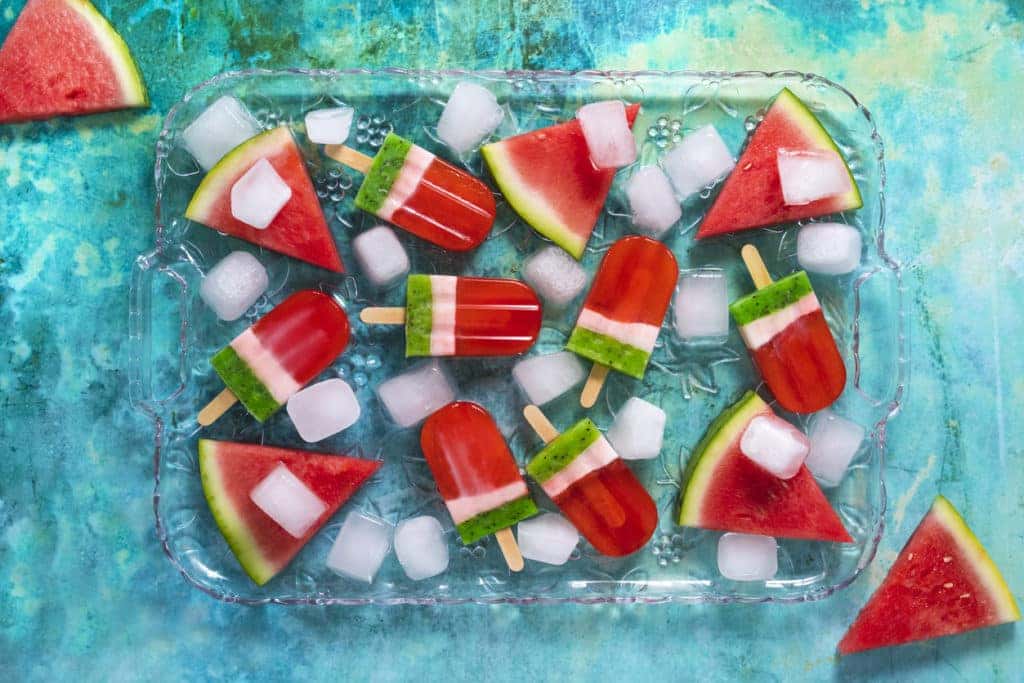 We're in the thick of summertime, but with that intense heat, the season also offers some wonderful fruits and other ingredients to help us keep cool. Watermelon is in season, and it's the perfect ingredient for a variety of refreshing treats and beverages. Whenever you need to beat the heat, try these watermelon recipes to chill out.
Watermelon Kiwi Pops
If you have a popsicle mold for your freezer, you can prepare these chilled treats with just a few easy steps. You'll need to cube some watermelon for the bulk of each pop, and you can also cut up some kiwis for extra flavor and color. Then, you'll need to puree each ingredient separately so that they are smooth and fluid. Pour the watermelon into each mold first, then let it set in the freezer for about 10 minutes before pouring the kiwi on top. When the pops have fully frozen, they'll sport a red and green look just like fresh watermelon slices. If you want the white layer to mimic a watermelon rind more accurately, try a later of cream in between the melon and kiwi.
Watermelon Lemonade
Lemonade is a go-to summer refreshment, and it lends itself to all kinds of upgrades and experimentation. It's no surprise that the subtle tartness of fresh lemon juice pairs well with sweet watermelon, and it doesn't take long to mix this tasty riff on a classic. Just cube some watermelon, then blend it smooth. Then, juice a few lemons (about three per quarter melon) and mix it all with sugar and water to taste.
Gelato
Rich, creamy gelato is traditionally made with dairy, but this two-ingredient treat is cream-free and vegan friendly. To get started, cut your watermelon into cubes, then freeze it. You'll also need an extra-ripe banana, which can be frozen or room temperature. Blend it all together in a food processor, then let in set in the freezer for about an hour.
You might also like: Find The Perfect Shades For Your Vehicle
BMW of Owings Mills
If you want to explore the roadways of Virginia in something new this summer, come see us at BMW of Owings Mills. We'd love to show you around our BMW selection and let you take a test drive or two.